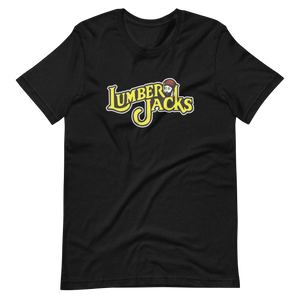 Cleveland Vintage Shirts
Cleveland Lumberjacks Early '90s T-Shirt
Regular price
$26.99
$0.00
Unit price
per
Most people have a fond memory of the old Cleveland Lumberjacks logo featuring the buzzsaw and everyone's favorite overalls-wearing mascot, Buzz (who once campaign to a local pancake breakfast when I was a kid, and I was PSYCHED). 

But to be honest, I'm partial to the previous iteration of the Lumberjacks, the one with, you know, an actual lumberjack included in the logo. But more importantly, I am a sucker for the script logo and that font, which makes this my favorite Cleveland Lumberjacks shirt of all.
If your hockey glory days include the likes of Jock Callander, this is the shirt for you. The Cleveland Lumberjacks of the IHL would one day rebrand with perhaps a more famous look among Clevelanders, but we're especially fond of this era. And it's a look the current team should embrace!
---