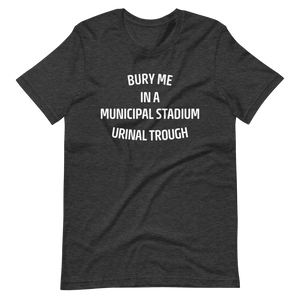 Cleveland Vintage Shirts
Bury Me in a Municipal Stadium Urinal Trough T-Shirt
Regular price
$26.99
$0.00
Unit price
per
There are plenty of memorable things about Cleveland's old Municipal Stadium, but who could ever forget the urinal troughs inside the bathrooms? For any young boy in the city, nothing would make you grow up faster than having to try to use one of the troughs during a Browns game, and now you can immortalize the experience on a T-shirt.
When Cleveland Municipal Stadium opened in 1931, it was practically one of the great wonders of the world. Seating well over 70,000 fans throughout its life, Municipal Stadium proved to be a cavernous baseball stadium, which didn't necessarily bode well for the then-Indians during their 40-year run of ineptitude that ran all the way from 1954 until the stadium finally closed down in 1993.
But despite the many things Clevelanders might have disliked about Municipal Stadium over the years, there's no denying it had its own special charm - and it did see some of the most important athletes of the 20th century.
So why not buy a Cleveland Municipal Stadium shirt that honors one of the most beloved aspects of the venue - the glorious urinal troughs.
---